I mentioned earlier this week that I'd be writing a bit more about that taboo topic of bladder leakage.  It's a real thing for a lot of us.  Something we should not be ashamed of and it's
not

just older women that experience it.  There are many common causes of bladder leakage in women including pregnancy, childbirth and even diabetes.  As a matter of fact over 51 million American women experience bladder leakage. That's 1 in 3 American women*.  I happen to be one of them.  This year one of my New Year's Resolutions was to take up running, and let me tell you, Depend ® has been an important part of my running gear, because I sure didn't want to be in Marilyn's predicament: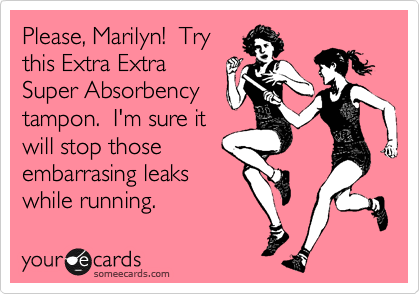 To support the over 51 million women who experience bladder leakage, the Depend brand is introducing Depend Silhouette Active Fit briefs, a new moderate-absorbency brief that features a thin design for complete comfort with the trusted protection of the Depend brand and a lower rise+ for an underwear-like look, fit and feel.
The Depend brand is also entering year two of Underwareness, a social movement and charitable cause to break down the bladder leakage stigma. As part of Underwareness, the Depend brand is:
• Encouraging people to show their support for women with bladder leakage. For every photo and video shared using #Underwareness, the Depend brand will donate $1, up to $3 million, through 2016 to fund charities that advance the research and education of bladder leakage.
In this second year of Underwareness, Depend is joining forces with CVS Health to support women with bladder leakage as they navigate their path to better health.  Women like me, who are trying to stay active in their middle age by running, doing Zumba or jumping on a trampoline, all of which can trigger bladder leakage.
Next month I am going to share some of my own fitness and healthy living tips that the Depend Silhouette Active Fit briefs help me achieve.
If you experience bladder leakage join the movement and request a free sample of Depend Silhouette Active Fit briefs at www.Underwareness.com. Together, we can show that wearing a different kind of underwear is
no

big

deal

.
Visit www.cvs.com/depend to learn more about Depend Silhouette Active Fit. To join the Underwareness movement, go to www.Underwareness.com.
I am participating in a Vibrant Influencer network campaign for the Depend brand. I am receiving a fee for posting; however, the opinions expressed in this post are my own. I am in no way affiliated with Depend and do not earn a commission or percent of sales.